FAST RESULT, EASY TO USE and COMPACT !
Get the result within 80 min for all suspected cases for 2019 novel coronavirus!
Introduction
RADI COVID-19 Detection Kit is used for qualitative detection of 2019 novel coronavirus in human Nasal Swab or Sputum by using RADI Prep Plus and RADI Real Time PCR system, ABI 7500 or Bio-Rad CFX 96 Platform, etc.

Product Specification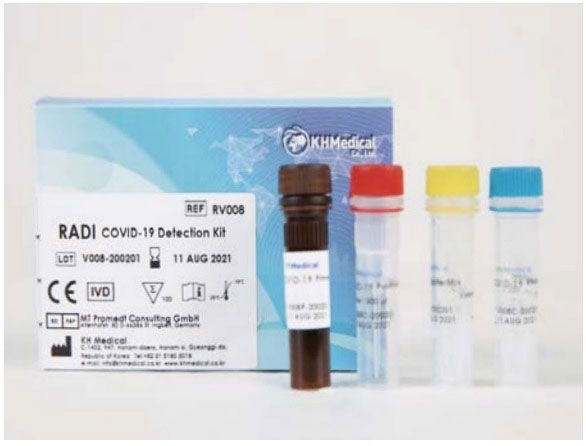 RADI COVID-19 Detection Kit
Intended use
Qualitative detection of COVID-19
Specimen type
RNA extracted in nasal swab or Sputum
Target
RdRP, S
Product contents

3X RT MasterMix (

Yellow

)
COVID-19 Primer & Probe Mixture(

Brown

)
COVID-19 positive control(

Red

)
RNase free water(

Blue

)

LoD
0.66 copies/?
Storage condition
-25? ~ -15?

ORDERING INFORMATION

Analytical Sensitivity (Limit of Detection)
To test the Sensitivity and Limit of Detection(LoD) of RADI COVID-19 Detection kit, synthesized RNA by in vitro transcription was diluted to 4 concentrations and ran 24 times for each.

Cross Reactivity
RADI COVID-19 Detection KIT did not cross-react with any of 53 pathogens.
Comparative Evaluation by using WHO published Primer & Probe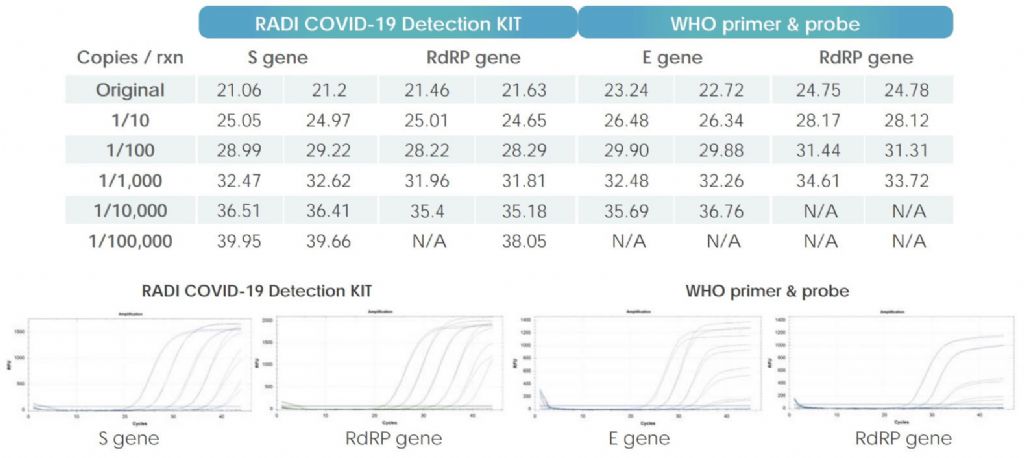 Downloads
brochure_radi-covid-19-detectionkit
Back