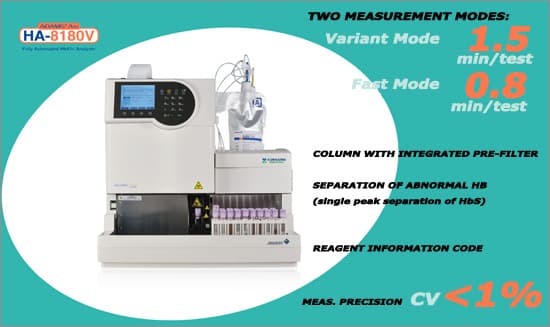 With HA-8180V, A. Menarini Diagnostics scores a new technological achievement, taking haemoglobin analysis to an unprecedented level of speed and accuracy.
With a 90 sec/sample throughput and only 3.4 min waiting time for first report, while maintaining a CV of less than 1%*, HA-8180V is the fastest HPLC system for HbA1c and Hb variants analysis in the world. (A 48 sec/sample throughput Fast Mode is available for all "non-problematic" samples.)
Along with speed and high precision, simplicity of use and augmented autonomy have been the guiding concepts in designing the device.
HA-8180V features a new type of column with integrated pre-filter that drastically reduces maintenance needs and a new LCD display allows the operator to monitor all relevant measurement or system parameters at a glance. HA-8180V is the perfect device to meet the increasing needs of accurate HbA1c tests and its HbS separation function makes it a highly reliable tool for the treatment of sickle-cell anaemia.
Indeed, this time-saving champion will become an indispensable instrument for all medium or big laboratories - in no time!
| | |
| --- | --- |
| | HA-8081V features a new type of column with integrated pre-filter, which, along with the self-diagnostic function, minimises maintenance needs for a more stable system. HbA1c is separated inside the column through the HPLC method. |
| | A bar-code reader compatible with all the bar-codes most frequently used in laboratories identifies every sample. |
| | All whole blood samples are mixed before testing with a special stirring-unit (2000 U/min rotation). Only 14 μl of blood sample are needed for the test. |
| | Instant printouts of detailed test results are available, showing HbF, HbA1c, HbS and Hbc peaks, as well as indicating the presence of HbD and HbE variants. |
| | With a standard capacity of 10 racks (10 samples each) and the possibility to connect an additional sample loader of 15 racks, HA8180V boasts a 3 hours "walk-away" autonomy. Each rack is compatible with all the commonest sample containers and is tagged with a bar-code indicating specific testing parameters. A STAT-port allows urgent testing during the rack-run. |
| | A user-friendly color LCD display shows the test results in mmol/mol unit (IFCC standard) and their conversion in HbA1c percent value (NGSP). The display also allows the monitoring of all relevant parameters such as reagents levels and traceability data or dysfunction of control elements or parts of the device at a glance. |
| | All Eluents (A, B and CV) come in new air/light-preserving and barcoded alu-packs that increase the lifetime of the reagents by 50% and ensure traceability (lot number, expiry period, etc.). |
Technical Specifications
Samples
Whole blood or haemolysis sample
Measured Items
HbA1c (stable HbA1c, S-A1c) and HbF (HbS and HbC can be detected in the Variant mode)
Measured Pinciples
Reversed-phase cation exchange chromatography Dual-wavelength
Detection Method
Colorimetry (420nm/500nm)
Resolution
0.1% ratio, 1 mmol/mol
Measurement Ranges

HbA1c: 3-20%, 9-195 mmol/mol

HbF: 0-100%

Guaranteed Measurement Ranges

HbA1c: 4-16%, 20-151 mmol/mol

HbF: 0.3-5%

Throughput

Variant mode: 90 sec/test

Fast mode: 48 sec/test

Sample Volume
Approximately 14μl (whole blood)
Racks
ARKRAY racks
Column Temperature
Approx. 40∞C
External Output
10-30∞C, 20-80% relative humidity
Data Memory
900 measurement results (including calibration results)
Display
Color graphic LCD with backlight
Built-in Printer
Thermal printer, 58 mm thermal paper
Sample Loading Capacity
100 samples
Min Sample Volume

Blood collection tube: minimum 10 mm away from the bottom

Sample cup: 400μl

Power Supply
AC100V-240V +/- 10% 50/60Hz
Power Unit
Max. 300 VA
External Dimensions
W530xD530xH530 mm
Weight
Analyser: approx. 39 kg, Sampler: approx 4 kg.
Evaluation of the Menarini/ARKRAY ADAMS A1c HA-8180V analyser for HbA1c

Back