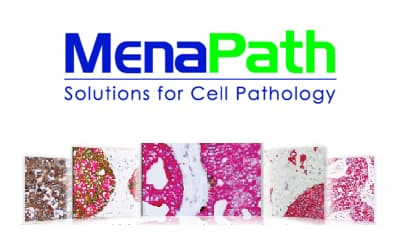 As one of the market leaders in IHC, we know that you have a choice. That's why the MenaPath range of reagents has been developed with you in mind. Menarini Diagnostics UK is proud to put its name to this high quality range, at a highly cost effective price.
The range includes:
The unique Multiplex staining system. Using the Multiplex staining system you can achieve remarkable multiple stain results like never seen before. Using a single antibody cocktail and single step cocktail detection system, superb results are achieved in the same length of time it takes to achieve a single stain.
Various Antigen Access buffers with pH colour indicators
A complete panel of primary antibodies- concentrated and pre-diluted
The X-Cell Plus Polymer detection kit – the most sensitive polymer kit available
Many different coloured stable chromogens
More recently Menarini Diagnostics UK have launched the intelliPATH FLX™ Automated Slide Stainer. The intelliPATH FLX™ is the intelligent choice for increased productivity and turn around time with a large enough capacity to allow the laboratory to expand and develop. Use in conjunction with the high quality MenaPath reagents and validated protocols to be guaranteed first class results.
Back