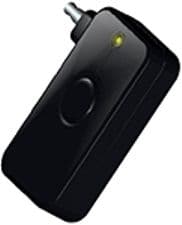 The GlucoLog Bluetooth device is a technologically advanced product that allows results from a GlucoMen meter to be sent via Bluetooth to a Smartphone.
To order your device please contact the Customer Support Team.
customerservice@mediconire.com
Our helpline is open Monday to Friday 9am until 5:30pm
Freephone numbers (Landline only)

Republic of Ireland 1800 709 903
Northern Ireland 0800 7837286

Download unlimited results quickly from your meter to a Smartphone using the Bluetooth device
Using GlucoLog Bluetooth device means that you will not forget to enter any results
Quick to set up and easy to use
The Bluetooth device works with our GlucoLog Lite & GlucoLog Mobile apps (available for iPhones and Android Smartphones)
Instructions for using the BT device
How to connect your meter to GlucoLog Bluetooth device
Insert the jack of GlucoLog Bluetooth device into the slot on the bottom of the meter using the appropriate adapter supplied within the box. Your meter should then display "OK - Upload" (GlucoMen LX Plus) or "PC" (GlucoMen Areo). Turn on the device on by pressing the button once until a green light flashes.
How to pair your Bluetooth device with your Android smart-phone/tablet
Turn your smart-phone/tablet on and enable Bluetooth by accessing your smart-phone/tablet's Network or Connectivity settings.
How to connect your Bluetooth device with your Apple iPhone/iPad
Ensure that your bluetooth is enabled in your iPhone settings. In your GlucoLog Lite app ensure that you have selected "Bluetooth Low Energy" for connection type.
Connecting
In the app go to the 'Receive' page to start the transfer. The pairing process will be completed automatically.
Data download
The full memory from the meter will now transfer over to the app.
Technical Specification
| | | | |
| --- | --- | --- | --- |
| Bluetooth Module | M903L | Maximum transmission speed | 2.1Mbps |
| Bluetooth Type | Bluetooth 4.0 (BLE, Bluetooth Low Energy) | Meter Interface | Serial |
| Bluetooth Class | 2 | Operative Voltage | 3V |
| Operative distance | 10m | Maximum Power | 72.6 mW |
| Frequency | 2400.00 to 2483.5 MHz | Battery | 3V CR2032 |
| Antenna Power | 0.1 mW | Certifications | Bluetooth, CE, FCC e IC |
| Storage Temperature | -10°C - +45°C | Dimensions | 36 x 39 x 11 mm |
| Operative Temperature | 0°C - +45°C | Weight | 13g |
Back