Areo 2K Blood Glucose & Ketone Test Meter - Now Avaible in the Republic of Ireland.

The Areo has been recommended on the "Guideline on the Choice of Blood Glucose Meters and Test Strips for Patients with Type 2 Diabetes" and can be found in the Endocrine chapter of the NI Formulary.

The Areo 2k is a patient friendly, low cost meter which combines Blood Glucose and Ketone testing on the one meter.
This meter is available in the Republic of Ireland and Northern Ireland.
Quality you can trust
New ISO accuracy requirements came into effect in May 2016. GlucoMen® Areo exceeds all of the new criteria with full supporting evidence available.
If you are not currently using a GlucoMen Areo meter but are concerned that your meter does not meet the latest accuracy standards, why not contact the GlucoMen helpline on 0800 243667 or apply for a free upgrade today.
Click here to request your FREE UPGRADE
Benefits of the Areo Glucose Test Meters -
Outstanding features for glucose testing
GlucoMen Areo and GlucoMen Areo 2K have a best in class set of features to make glucose testing easier, wherever you are.
Stylish Design
Small, easy to handle meter

Haematocrit Compensation
Ensures accuracy from 10%-70%

Hypo/ Hyper Alert
For patient safety

Large Test Strip
Easy to handle for everyone

The Finest Lancet
33G for more comfortable testing

Contactless Download
Fast, effective consultations

Exceeds All ISO Accuracy Criteria
For better outcomes

Strip Ejector
For convenience

No Coding
Quick and easy, safe and accurate

Meal Markers
To help diabetes control

Large Glow in the Dark Display
Easy to read in all conditons

Fast
Accurate results in just 5 seconds

Tiny Blood Sample
Easy to get enough blood every time

Locally Based Helpline
Free support, batteries, replacement items. LIFETIME WARRANTY

Extra Large Memory
Can't be deleted, exceeds DVLA requirements
GlucoMen Areo 2K for glucose and ketone testing

Ketone Testing
2 in 1 DKA Protection
Areo 2K brings glucose and ketone testing together in one meter for protection from DKA.
Click here for more information about DKA and its prevention. Your healthcare professional can advise if blood ketone testing is appropriate for you.
Outstanding Simplicity
Insert test strip to turn meter on

Apply tiny blood sample

Accurate results in just 5 seconds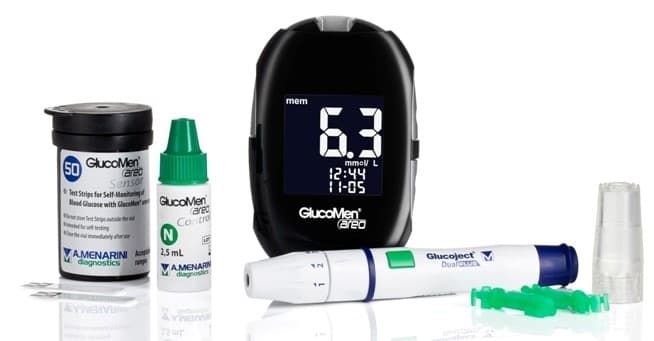 Ready to use straight from the box:
Date and time preset
Battery pre-installed
Lancing device and sample strips included
Everything you need to start testing straight away!
Technical Specification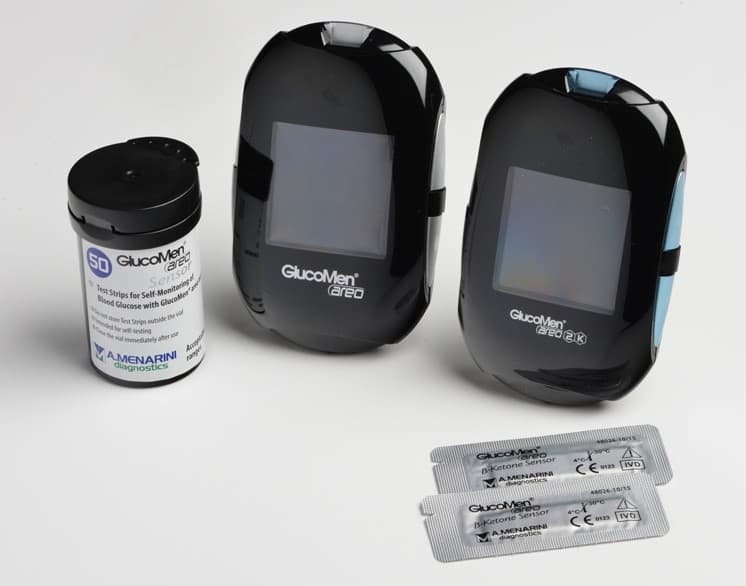 | Unit of Measurement | mmol/L (Blood glucose) |
| --- | --- |
| Test Range | 1.1 - 33.3 mmol/L |
| Haematocrit Range | 10 - 70% |
| Test Strip Coding | NO coding required |
| Sample Type | Fresh capillary whole blood |
| Sample Size | 0.5µl for Glucose testing, 0.8µl for Ketones |
| Test Time | 5 Seconds |
| Memory | 730 Test Memory |
| Averages | 1, 7, 14, 30, 60, 90 days |
| Connectivity | QuickLink NFC, BlueTooth and dedicated USB cable |
| Batteries | 2x 3V Lithium Batteries |
| Dimensions | 85.5mm (H) x 56mm (W) x 18.2mm(H) |
Product Support
Customer Support Team
Our helpline is open Monday to Friday 9am until 5:30pm
Freephone numbers (Landline only)
Republic of Ireland 1800 709 903
Northern Ireland 0800 7837286